Source:
http://www.proactiveinvestors.co.uk/companies/news/3468/chariot-oil-gas-scouring-the-south-atlantic-margins-3468.html
https://i.servimg.com/u/f82/13/32/73/06/chario10.jpg
https://i.servimg.com/u/f82/13/32/73/06/chario11.jpg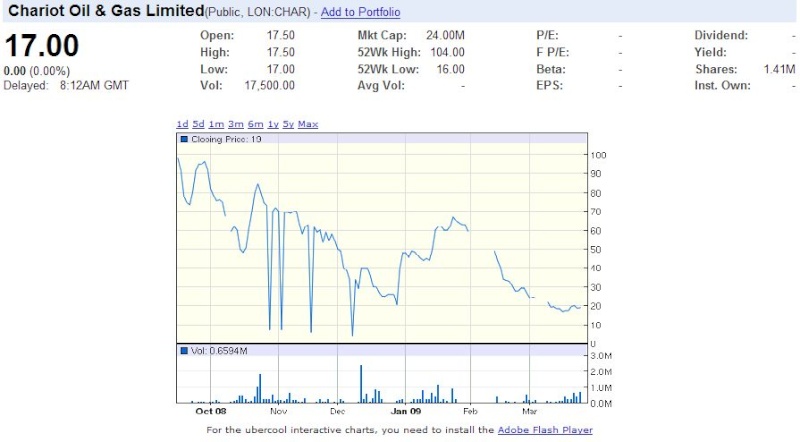 Chariot Oil & Gas is focused on exploration in Namibia and Peru. Through the acquisitions of Greendale and Enigma, the Group currently holds licences covering ten Blocks in Namibia, eight of which are offshore and two of which are onshore. Enigma has also recently won a bid for three onshore blocks in Peru. All of these blocks are currently in the exploration phase and in order to progress such exploration,
Monday, November 17, 2008
Chariot Oil & Gas – Scouring The South Atlantic Margins
by Stuart Watson
When you're looking for oil, it helps to have luck on your side. And the directors of Chariot Oil & Gas certainly got lucky with the timing of their flotation on AIM six months ago. Oil was over $120 a barrel and still climbing, while the funding concerns now dogging many a junior were yet to impact on valuations.
This tail wind enabled Chariot to raise £45m before expenses and its flotation was 40% oversubscribed. At this point, the company was valued at just shy of £200m although its only assets were 10 licence blocks in Namibia which were some years away from being tested by the drill bit. But the size of the prospective resource, estimated at a mean of 3.9 billion barrels, was enough to tempt investors to part with their cash.
Over the last six months, Chariot has moved ahead on a number of fronts. Most of its blocks are offshore and in deep water; three seismic surveys are due to be completed on these in the next few months. An aeromagnetic programme has been completed on its two onshore blocks and geochemical sampling will take place soon.
Most importantly, the mean prospective resource, so far all relating to the offshore blocks, has been increased to 5.2 billion barrels. Some of the leads are stackable and so can be drilled by single wells. Chariot has now combined its best leads into five separate prospects (Tapir, Tapir North and Zamba in its northern blocks and Combo and an unnamed prospect in the south). When the company floated, only the Combo and Zamba prospects had been separately identified.
The search for farm-in partners has continued. When Chariot floated it said preliminary discussions had begun with a major oil company. These are still progressing regarding some of its blocks and Chariot appears confident a deal can be struck. A data room has been opened for other potential partners.
Finally, to cap off a busy half-year, Chariot has also taken an interest in three blocks in Peru and is continuing to look for other assets that could provide additional cash flow.
Namibia
So why Namibia? Chariot is working closely with HRT Petroleum, a Brazilian petroleum systems specialist which has identified many similarities between the geology of Africa's west cost and the east coast of Brazil, where the huge Campos and Santos basins are both estimated to contain in excess of 10 billion barrels . HRT has also provided the two estimates of the Chariot's prospective resources.
These two coasts used to be connected of course but were separated in the Lower Cretaceous period some 100 million years ago. That said there are some differences in the geology. For the technically minded, the absence of a specific salt sequence in the Aptian section in offshore Namibia has resulted in a different evolution for some post Aptian sediments. This has affected trap formation and other characteristics but the rift and sag sequences are very similar to those observed in the Greater Campos Basin.
Although hydrocarbons have been found further north on the African coast, to date there has only been one commercial discovery in offshore Namibia. This is the Kudu field, which lies to the south east of Chariot's 2714A/B blocks near the border with South Africa. It's operated by Tullow Oil and estimated to contain 3 trillion cubic feet of gas. There are plans to develop it for production in the next few years.
Outside of this field, only a handful of other wells have been sunk offshore. Earlier this year the Kunene#1 well, just to the north of Chariot's 1811A/B blocks near the Angolan border, reported hydrocarbon shows. It's being tested at the moment but one of the participants, Energulf Resources, has said it's not expected to be a commercial producer. This well was drilled to about 5,000m and was estimated to cost around $80m. This highlights the cost of drilling offshore and why Chariot is keen to find a suitably deep-pocketed partner.
Other local operators to keep an eye on include Hunt Oil and BHP, both of whom are operating a number of blocks either side of 2714A/B. Also, just to the south of 1811A/B, AIM-quoted Tower Resources has a 15% stake in a few blocks operated by Arcadia. When Tower said the reserve potential of this area could be 10 billion barrels, coincidentally just a few days before Chariot floated, its share price trebled in a day although it has subsequently given back all of those gains.
Chariot currently has 100% interest in all ten of its Namibian blocks. The 8 offshore blocks cover some 39,000 sq km while the 2 onshore blocks cover 22,000 sq km. Chariot is just over halfway through the initial four-year exploration phase of each licence. This phase expires on 31 August 2010 and is then followed by two 2-year renewal periods for drilling and appraisal (the Namibian authorities can also award a third renewal period of up to 2 years). Chariot is required to relinquish 50% and then 25% by area on the first and second renewals.
As mentioned earlier, it's seismic time at the moment for the offshore blocks and two contractors have been recruited to perform this work. Seabird is conducting 3,000km of 2D seismic over blocks 2312A/B and 2412A/B. This should be completed around the end of November. Meanwhile, Wavefield is conducting a 1,500 sq km programme of 3D seismic in blocks 1811A/B and 3,000 sq km of 3D seismic in 2714A/B. These will take seven and fourteen weeks to complete although any of these timelines could be affected by weather conditions.
With regards to country risk, although Namibia is considered pretty stable in comparison to other African nations, it is due to hold an election next year. It is also trying to develop black economic empowerment legislation although it's not clear what form this will take. In South Africa, similar legislation restricts ownership to 74%.
Peru
Chariot is also keen to broaden its asset base. In September, it took an interest in three onshore blocks in northern Peru. Chariot's stake is 50% in Block 159 and 20% in Blocks 147 and 153. The three blocks are in a proven petroleum province and cover an area of some 20,000 sq km. Chariot bid for the licences in partnership with a subsidiary of the Indian conglomerate, Jindal.
Once again Chariot used the services of HRT to evaluate the area. As part of the proposed work programme, old seismic will be reprocessed and new seismic acquired alongside gravity and magnetic data before wells are drilled. The exploration phase of the licences consists of 5 stages over 7 years.
On the management front, Chariot seems pretty well connected. Kevin Broger, its CEO, was team lead for Encana in Brazil and involved in a significant discovery there in 2003. Chariot's chairman, Peter Kidney, has been a director of ARCON International Resources and helped found Providence Resources where he is now a non-executive. Other directors are also involved with AIM companies such as Petra Diamonds and Chromex Mining.
Chariot still has it all to prove obviously. With $71m left in the kitty as at the end of August, it has ample cash for the time being but not enough for any substantial offshore drilling programme. If a farm-in partner can be secured, this will change the picture dramatically. BHP's farm in with Falklands Oil & Gas earlier this year, which has similar large offshore prospects, provides an indication of what shape a deal might take. BHP took a 51% stake in return for paying 68% of the first two wells and cash of $12.5m to cover previous costs.
It's likely to be a rollercoaster ride but if Chariot can keep up the rate of progress shown in its first six months as a listed company, it could turn out to be a rewarding one too.