Congo (Braz): Premier to abandon Frida
Auj. à 16:54
Congo (Braz): Premier to abandon Frida Marine well
26 Aug 2009
Premier Oil PLC has announced that the Frida Marine-1 well in the Congo Marine IX permit has reached a target depth of 3250m. Logging has indicated that the well did not encounter hydrocarbons and it is being plugged and abandoned as a dry hole.
The well result analysis is ongoing to determine implications of this result on the follow-up prospect, Ida. The rig is now expected to be off contract on the 29th August. Simon Lockett, Chief Executive Officer, commented: 'We are disappointed that the Frida well encountered no hydrocarbons.
Premier initially held a 58.5% operated interest in the block, but after running a farm-out process, a 27% participating interest was awarded to Kufpec in May 2008, leaving Premier with 31.5% equity and operatorship.
The farm-out will result in a carry of Premier's costs for two exploration wells to be drilled on the licence
Position du champ Marine IX par Rapport a Marine III de MAU
https://i.servimg.com/u/f82/13/32/73/06/congo_10.jpg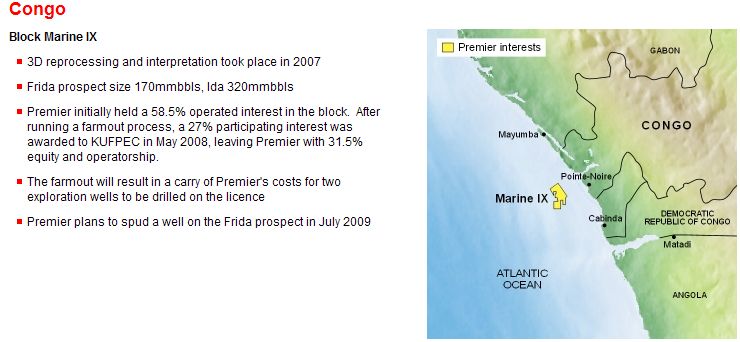 Position du champ Marin III de MAU
https://i.servimg.com/u/f82/13/32/73/06/congo_11.jpg